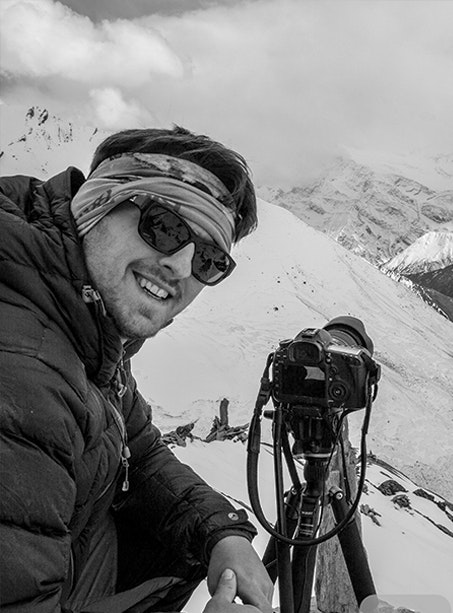 Fuelled by a passion for adventure and the remarkable landscape around him, Jago Miller is a filmmaker based out of the iconic English Lake District. Since graduating in 2015 with a degree in Adventure Media Jago has seized every opportunity, from co-creating an award-winning film, Shepherds Hand, to documenting a trek to Everest Base Camp.
Jago has travelled the world with his filmmaking, from a clothing campaign for Craghoppers in Svalbard to a trek along the Great Wall of China, summiting Mt. Kilimanjaro with The Big Journey Company to sailing though the Galapagos, adventure is often at the heart of his work.

With enviable knowledge of the Lake District Jago has been appointed to source locations for international clients such as Strava, Range Rover and the BBC. As his work so far has consisted of both commercial and lifestyle content, the wide variety of projects continues to diversify Jagos' approach to his film making. Jago is a CAA approved Drone Pilot.
When not out filming, as Jago is an active member of the Mountain Rescue, he can often be found in the fells. One of his favourite activities is jumping in his Land Rover and exploring the green lanes of the Lake District.

---
Awesome people I've had the pleasure of working with...
Craghoppers, Under Armour, The Railway Children, Buddy Films, CBA Events, Archers Mark, The Creative Branch, Graythwaite Adventure, The Big Journey Company, Cactus Creative, Urban Celebrity, 11 Degrees, Camo, Ian Wood Photography, Wheelbase, Carus Green, Pye Motors, Alexander & Sancto, Aqua Power Technologies, Crosby Granger Architects, Polaris
---
Lake District Locations? I've found them for these guys...

Strava, BBC, Berghaus, Range Rover, Sony Pictures Entertainment, Subaru

---
As the quote goes, the best camera is the one you have with you, so what's in the bag? Here's my go to kit...
Canon C200

Canon EOS R
Sony A7Sii
Sony A6500
DJI Inspire X5R
Phantom 4 Pro
Mavic Pro 2